Alright, well, as I promised, here is one of the posts that I've been meaning to do, but I haven't had enough time. (meaning I didn't have enough time to do actual construction) Anyways, you can use this and build either just the ghost part or the whole flying crank ghost that I will be building. Bear in mind that this is the first time that I've built a Halloween prop so this was a learning experience for me. This is not complete yet, but this is the skeleton of the ghost
Things you will need:
5 wire coat hangers
1 skull (Styrofoam, plastic, it doesn't matter as long as a hanger can go through it)
1 pliers (for twisting the coat hangers)
1 wire cutter (or saw, something to cut through the wire hangers)
This is everything all laid out... as you can see I just used a $1 skull I picked up from Dollar Tree...and 5 coat hangers I had lying around.
Alright, for most people the first thing to do is to straighten out the curved part of the top of the wire hanger and to push that through the skull (you would use that to hang the ghost from)... however, I live on an upper story, so I cut that part off... also you will squeeze the wire hanger down on the two sides so that it looks more like shoulders, as seen here...
Now then, you will need to cut the bottom part of the other 4 hangers off so that it looks like this...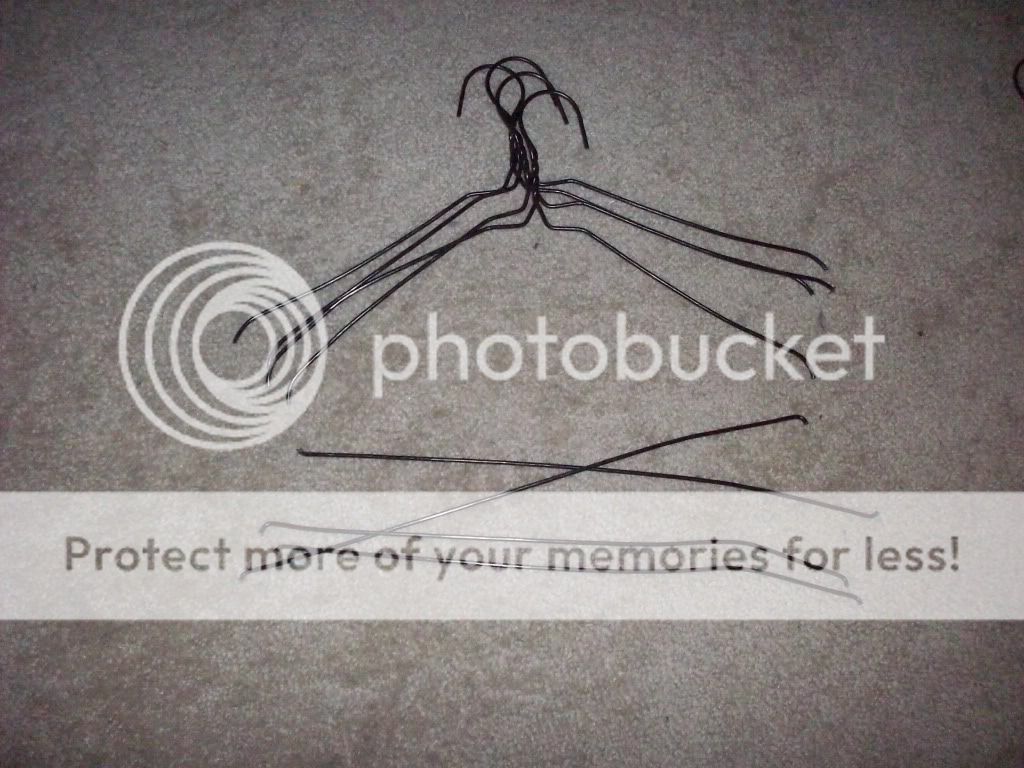 After you have the 4 bottoms cut off, you will then bend both ends up so they form hooks...
You will then attach one end to both sides of the hanger...
you must close these otherwise it will simple come loose when we get to the movement part...
...these are going to become the "arms" of the ghost...You will then attach the second pair of bottoms to the first part of the arm using the hook method. Also, you will want to do a small "o" on the bottom of both arms, this can be done by closing the hook in on itself. The reason for creating the "o" on the bottom of both arms is so you can thread a wire through it either if you are just going to hang it, or if you are going to do the Flying Crank Ghost this is where the strings will attach so that it can move. (although when I took this picture, I had forgotten to close the bottom of the arms!)
...and here we have the final product....well, as final as it gets before adding on the outside of the ghost.
There you have it! Happy building with your own ghost and I will be back soon with the rest of it. ... as soon as Wal-Mart gets some more cheesecloth in so that I can start that part. :P